Billows are symbolic of the wind, the breath of God, a tabernacle or dwelling place and unity in the body of Christ. Whether you are using them for powerful dwelling place ministry, healing under His wings, a wedding chuppah, a fire tunnel passageway or as a way to engage children in the worship of your congregation, hand dyed silk billows are visually and aerodynamically beautiful.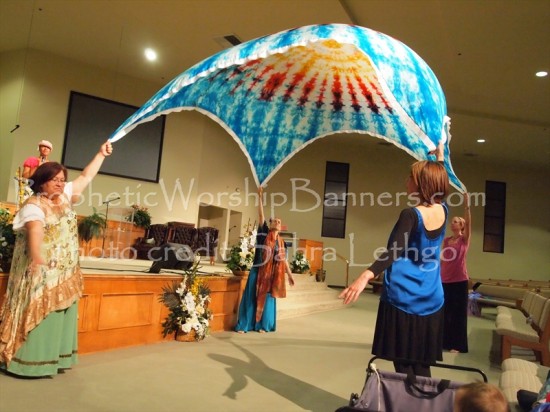 There are two weights available for silk billows and three sizes. For repeated or congregational use (especially with children) the medium weight silk is recommended. For one time or very occasional use light weight silk may be a more economical choice. Both are beautiful and appropriate for indoor use. Care must be used for temporary outdoor use (low wind tolerance).
2 person billows are 5 yards, chuppah billow canopies are 7 yards, 4 person billows are 11×11 yards. Custom orders and sizes are welcome.